Ange (verified owner) – July 19, 2016:
A true story once shared with me…….a young Mum and her son had a 'magic' blanket that was always close by, when either were unwell or just to snuggle up to, what ever the occasion the special blanket always worked its magic…….
Nettie, you have made a beautiful crochet blanket which is so creative, lovingly handmade using good old fashioned traditional methods but with a modern twist. I wanted something unique and special for a special little girl and I wasn't disappointed, apart from that is, I really wanted to keep it for myself 🙂
As you know this is my second baby blanket from you within a matter of weeks, why, because of your unique and lovingly made gifts, the personal touch that you add from start to finish, the incredibly prompt delivery service and above all else, the 'magic' thread each blanket has!!
Thank you Nettie.
Nettie is absolutely AMAZING! She really made this whole experience easy and the design was beautiful. Am definitely going to be recommending you to my friends or maybe just keep you a secret for myself. I for sure will be getting more things if that's okay with Nettie!!
"YouSuf"
Thank you Nettie. I'm so pleased with my purchase. Something different – just what I was looking for!
"Jennifer"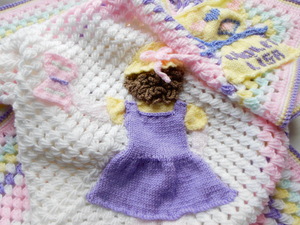 We are head over heels in love with our blanket!!! Working with Nettie was a dream, and the blanket is beautiful,unique and has the perfect personal touches 🙂 Wonderful communication from the seller and super fast shipping too! Thank you so much for making what is sure to be a family heirloom…you are amazingly talented! We look forward to visiting your shop again!!!
"Carrie"
Very Few Words 2 Say Except MASSIVE THANK YOU Nettie–!!Totally Beautiful Hand Crafted/Knitted Pastel Afghan Blanket With Real Artwork+Shows Real-Care Behind The Details With Which Nettie Has Made It –!!Arrived Well In Good-Time But Most Importantly–The Seller Was Amazing And Kind From Start 2 Finish–Just Without Doubt A Very Trusted+Genuine Lady–!!
Thank You Again–Adam
 -- Opening Hours --
Monday - Friday
8 am - 6 pm
Shop Owner